« History of television and mass broadcasts | Home | Video conferencing is beneficial for your business »
By cooldude | August 23, 2013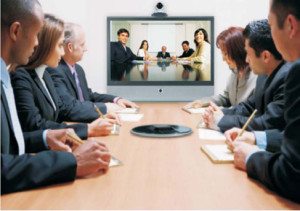 Video conferencing is really popular amidst the smart & dynamic entrepreneurs today. A face-to-face interaction is always significant to ensure a strong bond with the clients and also facilitates easy comprehension of the business ideas. Are you too planning to introduce video conferencing in your office? Well, that's fantastic and there are a diverse range of video conferencing equipments available today. However, not every video conferencing tool would be suitable for you- thus the article below lays down some tips to consider while investing on a video conferencing tool.
Consider the conference requirements
You must consider the conference requirements before purchasing your video conference unit. If you just want to make point-to-point calls, you won't need to waste money on equipments designed for multi-party calls. In case you would like to have presentations during video conferencing, search for the one that supports PowerPoint slides. Then, if your video conferencing is supposed to be followed by online survey, you have to invest on video conferencing equipment with polling capacity. Some of the systems are engineered with document camera that allows sharing of closed-up snaps during the conference.
Consider participants
You must take into account the number of participants before picking your video conference equipment. It's because there are a versatile array of conference equipments in the market catering to varied range of candidates. You will find equipments for 2-4 people, 4-6 participants and equipments catering to 10+ candidates are available as well.
Adequate screen size
Make sure that the video conferencing equipment you are taking to can assure effective viewing for all participants. A video conference has little value if your presentations cannot reach up to all the participants in the conference. For example, a 32" screen will only produce a highly dissatisfied user experience in a conference with 10 participants.
Topics: Technology | No Comments »
Comments